24 Hour Emergency Care at Central Tree Service, Inc.
Following severe storms, our first priority is to respond to our clients to provide emergency services. We are properly equipped with state of the art equipment and expertise to remove large trees from homes, buildings and structures safely and efficiently. We are available 24 hours a day, 7 days a week to respond to residential or commercial property emergencies.
Fallen trees on:

Homes
Buildings
Structures

Pruning of storm damaged trees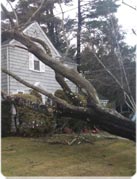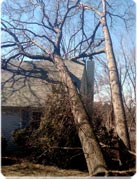 "Daniel, thank you for being there. You have no idea how comforting it was to hear you say we'll be right over. I heard stories from other people who called different companies after this storm and they were told to call in a week or so."