Organic Recyling at Central Tree Service, Inc.
We are truly green! We have been recycling 100% of our wood waste since 1994. All of the leaves, twigs, branches, logs and chips generated from our tree care operations get recycled into Premium Grade Organic Landscape Mulch. None of our waste ends up in any landfills, it all gets recycled and put back where it belongs...the landscape.

Some of the advantages of mulch is it maintains soil moisture, helps control weeds, improves soil aeration (aggregation of soil particles). Mulch is nature's insulating blanket, it keeps soil warm in the winter and cool in the summer and will give your landscape a well-cared-for look!

Bulk deliveries
Organic Mulch Installation

Drop off container services
available for your organic
waste (20 & 30 yard containers)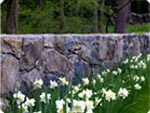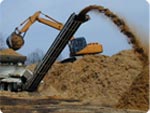 "Thank you for the great work! I was very impressed with the transformation when I got home. We will always continue to use your services as you and your crew are very knowledgeable and your expertise is greatly appreciated!