Plant Health Care at Central Tree Service, Inc.
We offer comprehensive, year-round plant health care programs based on preventative care and early detection. Central Tree Service, Inc., knows that most problems start off on a small scale and can be easily detected by our certified arborist in their early stages. We take pride in having the commitment to providing 100% organic and biodegradable alternative programs. These programs have no adverse effect to humans or the enviroment.
Scout Programs
100% Organic Insect Control
100% Organic Disease Control
100% OrganicSoil & Root Care
Dutch Elm Tree Inoculations
Consulting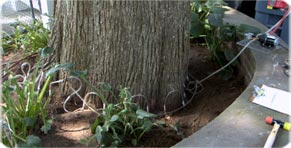 "My Mulberry tree has never looked so good, Daniel! Many thanks for all of your fine work. You're very talented, and certainly know your business! You saved my Mulberry tree!"